I got one of these for Zetta when she was born. It is the best towel so it is used for all 3 of my kids. I now should make one for Connor and Tara.
From
Make and Takes
:
they make for great birthday or baby shower presents for others.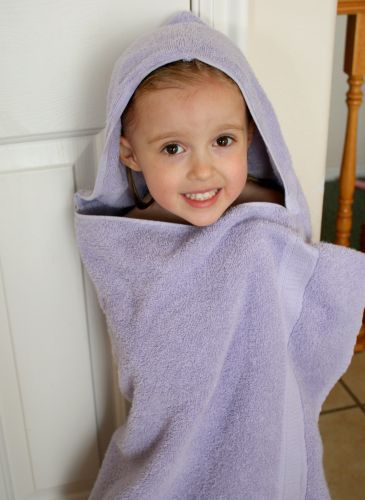 Supplies for Bath Towel Hoodies:
one large bath towel - any color
one hand towel - any color
fabric for letters - can be anything. I use fleece and it does pill, but I don't mind as it doesn't fray.
scissors, pins, sewing machine
extras: ric-rac, double bias tape
First, cut your hand towel in half horizontally. Then lay out your large bath towel on the floor and center one of the cut pieces of hand towel on top of the towel. Put the cut side up, so that the sewn end in the one being sewn to the large bath towel, then you don't have to fold over the edge.
Pin the cut hand towel to the large towel and sew in place. It doesn't really matter how you sew them together, I actually like to sew them on top of each other, not right sides together. But either is fine.
Fold your hood together in half, pairing the cut side together. Sew this together. I don't mind that the seams show and will fray a little after washing, this is the part that is on the inside and their heads cover that.
You could be done here, but I like to add a few extras, a name or a shape to the back that I applique to the towel. I'm no expert and not a perfectionist, so most times the applique comes out a little wonky! I cut out letters/shape from fabric, pin them on, sew around each with a zig-zag stitch and call it good!
I've also added some double-bias tape to my newest baby's towel, down the sides and on the hood.
Have fun making your kids some new towels.