Yummy looking recipe from Little Birdie Secrets:
Emily from Freshly Baked by Georgie Tees is here today as my guest sharing a favorite recipe Chicken Divan… aka Chicken in a Pan with a Tan!
One of my favorite dishes growing up was my mom's Chicken Divan, aka Chicken in a Pan with a Tan. This creamy, cheesy, broccoli-filled casserole has since become a family favorite in our home. Where did we get "Chicken in a Pan with a Tan?" Let's just say one dinnertime rhyming game got a bit out of hand…trust me, the name was a lot longer than that!
Besides being a great way to teach rhyme, here are the other reasons why I love this dish:
It's easy and I always have all the ingredients on hand
We always have leftovers my husband can take to work the next day
I have yet to hear of a child who doesn't like it.
It makes a great dish for taking to a neighbor or family member in need.
The recipe doubles (and even triples) really well.
Cream and cheesy…need I say more?
But one of the main reasons why I love Chicken Divan is its sentimental value. I made this dish for my good friend when she was on bed rest pregnant with twins. I can still remember leaving it in the kitchen with a batch of homemade rolls, explaining to her husband that I'd added a bit of curry to the recipe and I hoped that was okay. The second time I made Chicken Divan for her was two years ago after she moved across the country. While visiting her I made it for her family along with a batch of my famous homemade rolls. It was like déjà vu only much tastier!
Since then she has made this recipe for her family multiple times as it is now a family favorite in her home as well. I am visiting her again next week and I'm sure we'll be whipping up another batch of Chicken Divan—it's tradition! Here's the recipe with a few of my own notes and suggestions thrown in for good measure. Enjoy!
Recipe for Chicken Divan:
1/2 cup mayonnaise
1 can cream of mushroom or cream of chicken soup
1/4 to 1/2 cup milk (enough to make it creamy but not soupy)
2 cups cooked, cubed chicken
1-1/2 to 2 cups shredded cheddar cheese
1/8 to 1/4 tsp curry powder or to taste
1/4 teaspoon pepper
1 package frozen broccoli (florets or chopped, your choice)
Cooked white or brown rice (I use about 4 cups)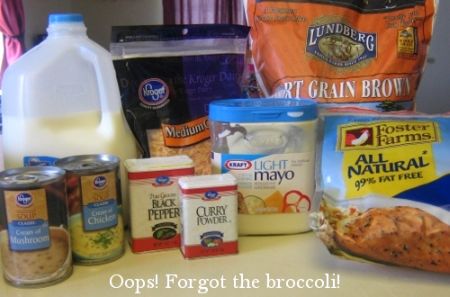 Preheat oven to 350 degrees. Grease a 9×13-inch pan or similar casserole dish. Mix mayonnaise, soup, milk, chicken, cheese, curry powder and pepper. Cook broccoli according to package directions. You can either layer the rice in the pan or leave separate; I prefer to layer. In greased pan layer rice (I use about 4 cups), then broccoli, then chicken mixture. Bake for about 35 to 40 minutes or until heated through and bubbly on top.
Post script:
For a family of six I suggest doubling the creamy mixture (mayo, milk, soup, cheese and curry powder) and using three chicken breasts. I prefer cream of chicken but if doubling I'll often throw in a can of cream of mushroom so the cream of mushroom doesn't get its feelings hurt. If you don't like curry powder, leave it out. Instead try topping the casserole with grated Parmesan cheese! I use brown rice because you can hardly taste the difference and it's healthier than white rice.
Make it even healthier by using low-fat or low-sodium soup and low-fat mayo. To make life super easy I buy the steam-in-the-bag broccoli florets. If it's a smaller bag I use two for our family. They're not as cost effective as my huge Costco-size bag of broccoli, which I also have in my freezer, but it saves on dishes and often saves my sanity.
For cooking chicken I love, love, LOVE my Pampered Chef Micro-Cooker pictured above. Just throw in 2-3 frozen chicken breasts (depending on size), cover with water and microwave on high for 20-25 minutes. Voila! No boiled chicken smell throughout the house!
Chicken Divan tastes best served with a side salad and homemade rolls. Perhaps I'll have to do another guest post on Make and Takes and share that top-secret recipe with you!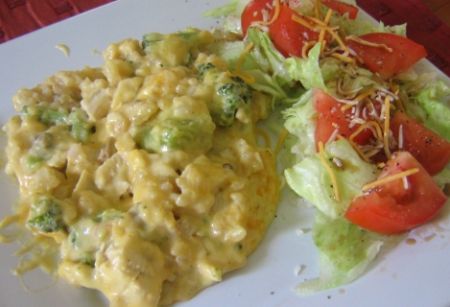 Thanks, Emily. Oh my my, does it look good. Who can say no to all that creamy goodness. I can't wait to make it! I love to know about those secret family recipes! You can see more of Emily at her blog Freshly Baked.