I really need to organize my ribbon somehow. When I have my own house, I think this is a great idea by
The Thrifty Chick:
So I made this ribbon storage" thingy" :) a couple of months ago, but my sister saw it and wanted to duplicate it, so I have been asked to put up pics of it! So here ya go! It was extremely easy. I am one of those lucky ones who have a "craft" room, and in my craft room I like to be able to SEE what I have, and I also like useing my stuff as part of my decor. I am all about bright colors, and especially organization. So I have a ton of ribbon that is used for all my hobbies (scrapbooking, sewing, decor, making bows for my girlies hair, etc.) and I wanted to be able to see what I had at all times. So I used some old wood from a past project, a piece of 1x4 wood, cut into 2- 2 foot pieces, and some leftover beadboard. The beadboard was cut into 2, 4 x 2 1/2 foot pieces. Then I just nailed them to each end to make the sides. I used my drill gun to drill the small holes on each side (which I did before I nailed them on) to put my dowels through, and voila! It was really simple, and even better"cheap" (all I had to buy were the dowels). If you want to duplicate it and need better instructions leave me a comment and I'll try to do a better job at explaining!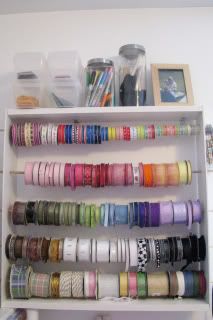 So I was looking at the sides of this and wondering why I didn't finesse my job by adding cute wooden knobs to the end. And then i realized why I didn't. If I had glued cute wooden knobs to the end I couldn't have pulled my dowel out when a spool of ribbon ran out and needed to be replaced! So that's why it just has the bare dowel ends poking out. Plus as you can see I hang yet more ribbon on them also!!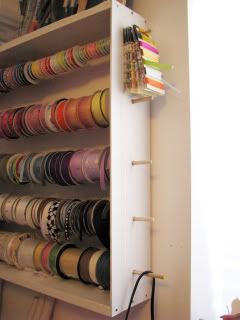 And this is how I store all my loose ribbon. In empty bottling jars!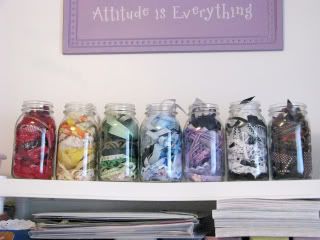 So anyway, there ya go, my home-made ribbon storage thingy!!