Cute Mom idea from Make and Takes:

I can't remember where I saw this great idea, (if it's yours, let me know) but a special fairy came to the home and left goodies in the good little child's backpack on the first day of school. Well, I caught up with that same fairy and she made it to our house this year for my son's first day of Kindergarten.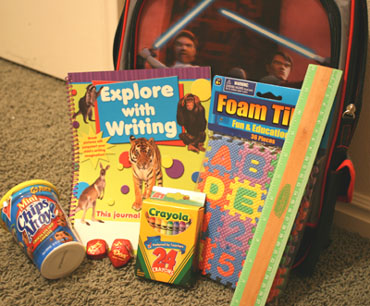 We placed his backpack outside his door and he went straight to bed so the First Day of School Fairy could leave something special in his backpack. Right when he woke up this morning, we heard him cheer and he came running to tell us what was inside. The fairy brought a few school supplies, activities for when he gets home from school, and an after school snack. Boy, that fairy is somethin' special. I hope she's able to come back next year!
Here's a few other First Day of School ideas to be shared: